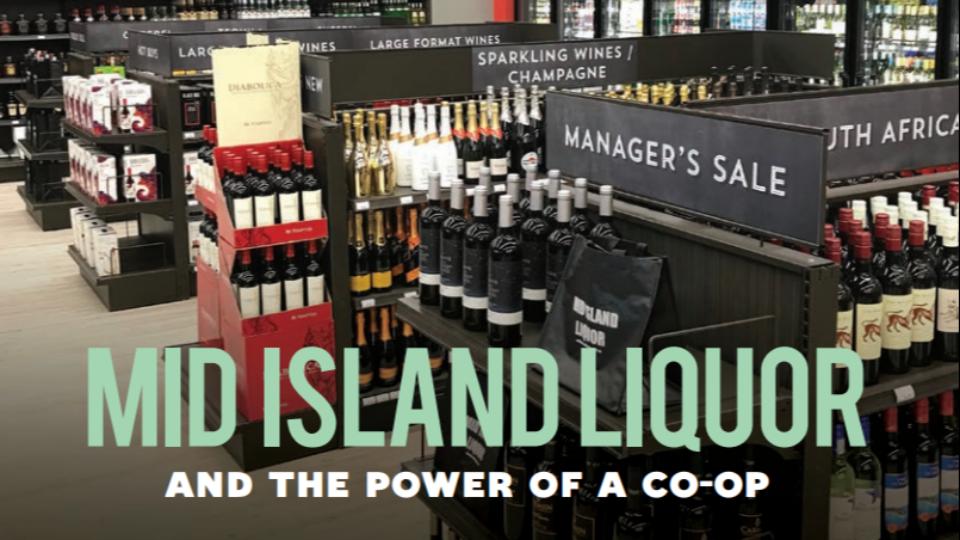 News and Media
October 28, 2020
MID ISLAND CO-OP ANNOUNCES THE ACQUISITION OF 8 "LIQUOR DEPOT" STORES ON VANCOUVER ISLAND

NANAIMO BC, October 9, 2020
Effective October 8, 2020, Mid Island Consumer Services Co-operative ("Mid Island Co-op") has entered into an agreement to purchase eight (8) Liquor stores located on Vancouver Island from Edmonton based Alcanna Inc. Pending completion of customary closing conditions, including regulatory approvals, the transaction is expected to close by the end of October 2020.
Included in this acquisition are eight (8) locations, (1) Duncan, (1) Ladysmith, (2) Nanaimo, (2) Parksville, (1) Lantzville and (1) Port Alberni. The Port Alberni location will transition to be locally owned and operated by Alberni District Co-op.
This strategic acquisition aligns with Mid Island Co-op's long term goal of growing and providing our 60,000+ member/owners with increased diversity of services and long term sustainability. The transition of these new stores to the Co-op's "Mid Island Liquor" brand in early in 2021 will provide the opportunity for Mid Island Co-op members to use their Co-op membership number and earn equity and cash back. Mid Island Co-op is proud to provide local jobs and economic activity in the many communities we serve.
We look forward to welcoming the employees at these locations to our Mid Island Co-op team.
For further Information
Ian Anderson
Chief Executive Officer
Mid Island Co-op
(250) 729-8401
MID ISLAND LIQUOR ARTICLE IN THE QUARTERLY POUR
Mid Island Liquor was recently featured in the Quarterly Pour interviewing our very own Jared Brown on the power of being a Co-op. To read the full publication visit ablebc.ca and click on the Winter 2020 issue.