September Pick of the Month
Actions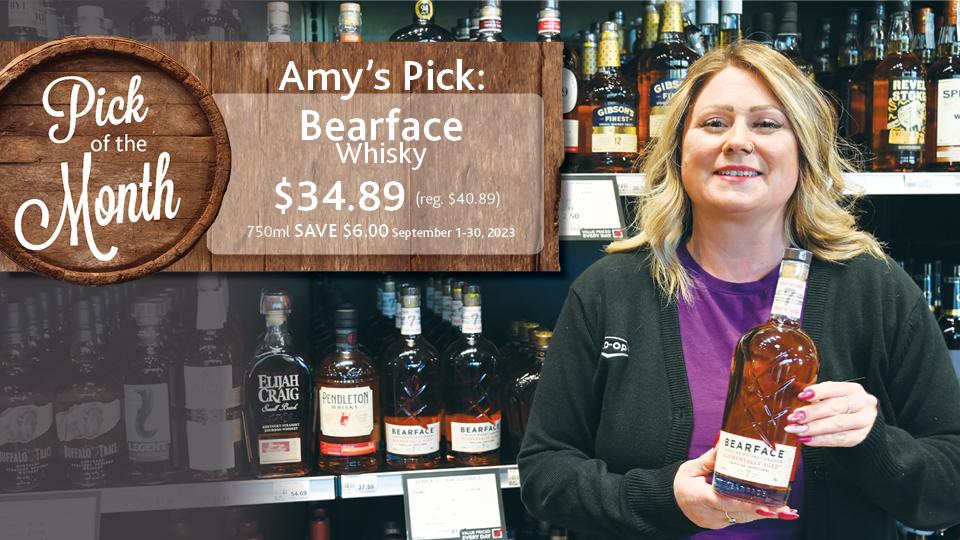 September Pick of the Month
September 1, 2023
With everyone heading back to school, here's something to look forward to at the end of a long day!
Every month, one Team Member from Mid Island Liquor will choose their favorite item from their location to showcase to our members and customers! The Pick of the Month is available at all Mid Island Liquor locations.
Amy has chosen Bearface Whisky as the Pick of the Month and we've managed to work out a special deal for September we think you're going to love. All month long you'll be able to pick up a 750ml bottle for only $34.89+tax, for a $6 savings! Regular price $40.89.
Try something a little different and pick up the ingredients to try the recipe below and take your whisky to another level.
The Old Fearless
Inspired by the bear, this is our Canadian twist on a classic.
Ingredients:

2oz BEARFACE Whisky
Charred cedar bitters – 2 dashes
Maple syrup – 1 bar spoon
Orange peel for the twist
To Craft:

Stir all three ingredients in a mixing glass with ice, strain into a rocks glass over large ice cubes and garnish with an orange twist.